Market Update: Rates Fall, Case Shiller Home Price Index, Pending Home Sales, and Construction Spending Coming Up This Week
Blog posted On June 28, 2021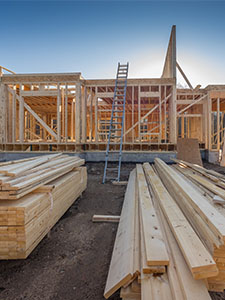 Mortgage rates trended downward towards the end of last week. Bonds had a few solid days of stability – the most stability since the Fed's meeting two weeks ago – while also trading at or near some of the best levels week-over-week. Consequently, mortgage rates saw improvement as well. This week, there are several reports scheduled for release that could have an impact on current rates. On Tuesday, the Case-Shiller home price index is scheduled for release, and on Wednesday, pending home sales will be released as well. Construction spending is scheduled for release on Thursday morning.
The S&P Case-Shiller home price index tracks changes in the value of homes involved in two or more sales transactions across 20 major metropolitan areas throughout the country. Though the data lags by a month, it is still used to gauge home price appreciation trends. In March, home prices climbed at a seasonally adjusted rate of 1.6% month-over-month. Year-over-year, prices climbed 13.3%. Phoenix, San Diego, and Seattle had the largest year-over-year gains, up 20%, 19.1%, and 18.3% respectively. "These data are consistent with the hypothesis that COVID has encouraged potential buyers to move from urban apartments to suburban homes," said Craig J. Lazzara, Managing Director and Global Head of Index Investment Strategy at S&P DJI. "This demand may represent buyers who accelerated purchases that would have happened anyway over the next several years. Alternatively, there may have been a secular change in preferences, leading to a permanent shift in the demand curve for housing. More time and data will be required to analyze this question." April's data will be a key factor in determining more about the shift in housing market trends.
The pending home sales index tracks changes in the number of homes that are under contract but not yet closed. Pending home sales fell 4.4% in April, though all four regions saw year-over-year increases. The record-low inventory for homes in the first quarter of 2021 has been affecting home sales of all types. However, in perspective, contract signings are starting to level out as they approach pre-pandemic levels.
The U.S. construction spending report tracks total spending on private and public construction projects. Construction spending inched up 0.2% in April to reach a seasonally adjusted rate of $1.5 trillion. Private spending increased 0.4% with residential construction up 1%. Nonresidential construction fell 0.5%. Public construction spending fell 0.6%. With rising lumber prices and increased costs of other home building materials, many builders were delaying the starts of projects. But in recent weeks, lumber prices have been starting to level out.
With record low inventory of existing homes and high material prices adding extra costs to building new homes, finding the perfect home might be slightly more difficult right now. You might have to expand your search beyond the ideal 'move-in ready' home and explore options like fixer-uppers. We have many great financing options for these types of purchases like our 203(k) Renovation Loans. With 203(k) Loans, you combine the costs of renovations with the cost of your mortgage in to one, convenient loan. Let us know if you would like to explore your Renovation Loan options!
Sources: Census, Mortgage News Daily, Mortgage News Daily, NAR, S&P Global,